After finishing my guiding season I was stuck with the seasonal work dilemma of what next. My friends were also working on lining up work for the winter and mentioning how difficult it was late in the season (September). Not only was I torn on what sort of work I should do for the winter season but where I wanted to live.
As summer dragged on employment opportunities were looking grim, I decided to shift my focus not on what to do but where to live and try and find a job once I lived somewhere. Living anywhere for me is tough, for the past 5 years I hardly spent more than 3 days at any one location. Instead of trying to break this migratory habit, i nurtured it and bought a RV to live out of during the winter.
When I told people my plans they said it couldn't be done, it would be foolish to live out of an old RV all winter. Challenge accepted! Buying a house is a big decision so I researched and did not find much information about RV living throughout Canadian Winter. Most of my research told me to migrate down to the southern states, with the strong American dollar that wasn't an option.
 Let me present to you the quirks and quarrels of RV life throughout Canadian winter!
Ill start with my RV, aptly named Harvey the RV The Mac-Country Lodge. I picked up Harvey early October in Calgary. I had spent weeks trolling Kijiji looking for the right rig. Harvey is a 25ft 1979 Dodge Empress, its previous owner had been a handyman and done ton of upgrades including; new awning, solar panels, new fridge, LED lights, steel cargo box, airbag suspension, and outdoor shower. It was perfect and turn key! First trip was down to Ikea to furnish it.
In the late fall Harvey and I explored all of my favourite parts of the Rockies. Initially I was nervous about what I would do to park it, after a couple nights of 'creative camping' searching for a parking spot became routine. Advice for anyone looking to camp out of your vehicle, pay for it. Initially it seems like a great way to save money but the stress of parking somewhere where you might get a knock on the door doesn't allow for a good nights sleep. During the fall season most campgrounds have reduced rates or are free provided you can get into them. The National parks are notorious for parking. If you're planning on spending time in them make sure you prebook campsites! British Columbia has a great service (I believe Alberta does too) with Recreation sites. These are always my preferred campsites, as they are free and in beautiful locations tucked away in Crown land across the province. The only difficulty with Rec sites is that they are often down logging roads which makes them inaccessible during the winter. Another great way to find spots to park is talking with the locals! Ive often been directed to overnight parking lots or even allowed to stay on their property, the world is a amazingly friendly place if you open yourself up to it!
Harvey is equipped with dual kitchen sinks, a bathroom sink, flush toilet, bathtub, shower and outdoor shower. Using all these is super convenient and feels like living in a quaint little cabin. With winter approaching I knew eventually I would have to winterize the water lines. I put this off as long as possible, running the furnace at night to keep the pipes from freezing when it would dip below freezing. At this point I was living around Whistler, It was December when the first big cold snap hit that sent the temperature plummeting to around -20. I had to winterize my water lines and switch over to water jug and wash basins. To cope with lack of running water for drinking/dishes/showering I would go to the local gyms and get a workout in and use the showers. This became a good way to meet people and to keep active, as skiing, hiking, and skating aren't enough 😉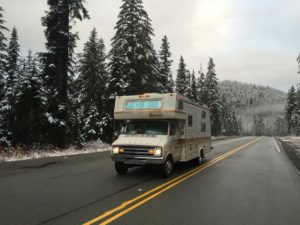 The question I get the most is what do I do for heat. Heating and condensation is the bane of my winter existence. RV's especially those built in the 70's have little to no insulation. I spent about a month trying to fill all the little nooks and crannies with whatever I could find to insulate. Even with all the windows covered in cellophane, and covered in reflective insulated foam it doesn't keep super toasty. I have a propane forced air furnace which helps but I don't like running it during the night for fear of carbon monoxide. The key to winter RV living is blankets, flannel sheets, and slippers. Under my blankets during the night. Its super comfortable until I get out from the blankets and run to turn the thermostat on. One of my proudest moments this winter was up skiing at Rogers Pass when it was -34 outside during the night. I woke up and it was only -10 inside! Knowing that I had insulated enough to cause a 24 degree difference made me really happy, my friend who was staying with me at the time didn't understand the celebration of a -10 morning inside the RV.
For now I've parked up at my favourite ski hill nestled in the Kootenays. They let me park in the parking lot which is great for easy access to the lifts on powder days! The only downfall is hearing the snowplows and groomers all night. With the winter absence of wildlife I pretend the chugging of the front end loader plowing the lots at night is the birds singing. This makes there 5am appearance bearable. With the guiding season starting up soon Harvey will remain parked as we work through the season, rest assured ill keep him stocked up and ready to go when adventure calls!
— By Malcom  Taliano
Have a look to our departures  and/or contact us for a tailored quotation. 
Go back